EDUCATION FACILITIES
CLASS ROOMS
There are 100 spacious and airy IT enabled classrooms linked by a campus wide high speed computer network and equipped with appropriate audio-visual equipment and resources.
SCIENCE LABORATORIES
Well equipped Physics, Chemistry and Biology laboratories to develop inquisitive characters so that they develop to be custodians of the environment. The aims of science labs are to develop interest in and stimulate curiosity and to develop scientific skills and temper so that students can understand themselves and the world around them.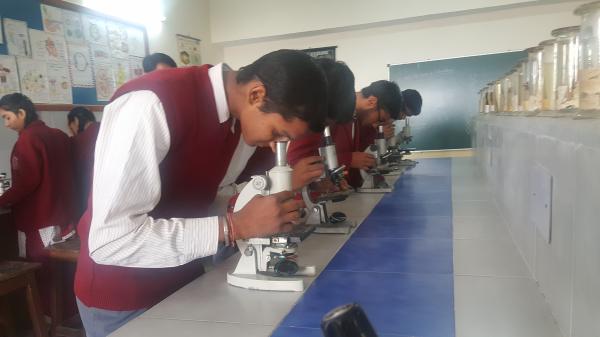 ART
Art is a compulsory subject for the students of Class I to X to create a vibrant environment for learning, celebrating experimentation, expression and discovery with the aim of nurturing artistic talent and developing artists who draw on their creativity to enrich society.
LIBRARY
" A well informed person is a well educated person. It is a sharing and perfected source of information"
Our school library endeavors to provide students with additional information opportunities. Library collections standout around 10,000 books on a variety of subjects and has a regular influx of journals periodicals and magazines apart a few news papers.
COMPUTER LABS
Four well-equipped computer labs to acquaint the students with information technology. Computer education is provided to our students to get exposure and access to the world of information and create awareness about its uses and the latest technology innovations that are going on in the world.
Engineering Drawing LAB
"Every scientist is an artist but every artist is not a scientist."
Engineering Graphics, an optional elective subject, for young and budding engineers aims to prepare them with appropriate knowledge of drawing of geometrical patterns and 3-D designs. They learn to construct the various magnificent megastructures or intricate machines. Technical drawing is the language of engineering and is, therefore, indispensable today.
FASHION STUDIES LAB
Fashion Studies is yet another elective subject for the students of class XI and XII to generate widespread interest and awareness about this promising field as a career option. The school aspires to pave the way for tapping the talent of students endowed with a keen eye, creative disposition and aesthetic sensibility at an early age so that they can develop and sharpen their skills for higher studies.
Park : Exuberance and bubbling enthusiasm
A well pruned park for the students to relax and enjoy and refreshen themselves, Swings, slides, rods for hanging upon and many other items for much required exercises for the little ones. It provides an amalgamation of multiple play activity.